Our Policy
The Policy of Philippine Transworld Shipping Corporation (PTSC) is to supply all its principals a quality services that continously meet their needs and expectations.
PTSC is fully committed in achieving the highest standard of recruitment of Marine Personnel for provision to the international shipping industry.
PTSC intends to remain at the forefront of its established field of business with the objective of continuous improvement, through initiative, innovation and dedication to quality management system and working practices.
Our Quality
In order to achieve these high standards of services, PTSC adopted the new version of ISO 9001 model of its new quality management systems.
Our Foundations
Founded by friends – Sumiyo Kariya-CEO, Capt. Erlindo M. Salvador-President and the late Atty. Serapio Catindig who envisioned of putting up and starting a manning agency more than 39 years ago for the purpose of generating employment for Filipino seafarers, providing professional services to our principals and henceforth contributing to the economy of the Philippines.
Since the company was established through a foundation of both –partnership & friendship. We at PTSC also considers our principals not just clients but partners and friends as well. Our passion for effective maritime solution and vision of excellence and total customer satisfaction are the assurances that we can offer to our principals.
Our Experience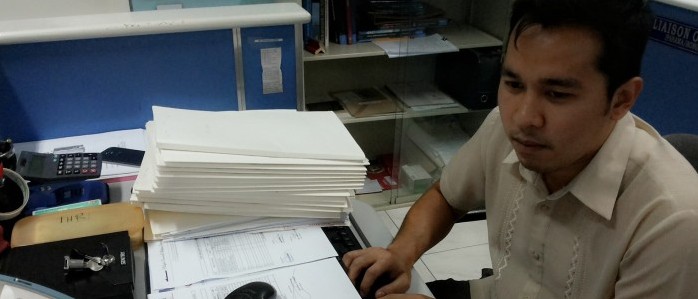 Philippine Transworld Shipping Corporation has been carrying out its services in a professional and efficient way since 1977. For more than Thirty Nine (39) years in the recruitment business, it has provided us with not only experience and knowledge but also the full confidence by our principals in maintaining highly professional, efficient and cost conscious dealings with them.
It has also gained us advanced company operating methods and management in which response and processing time to principals requirements has been shortened through the adoption of POEA's In-House Processing and our computer database system that correspond seafarers to a particular vessel. Our database contains particulars of almost more than 1,500 seafarers which includes personal information, sea experiences, confidential reports and different vessels that they have served. Crewmembers are then personally selected and prospective applicants carefully screened to verify their experience, competence, fitness prior to enlistment.
Using this computer generated information, our company assures that what we are providing our international clients of shipmanagers and shipowners are only experienced professional, competent, well-trained, well-motivated, safety conscious and as well as well-fit Filipino officers and crew, including Masters and Chief Engineers for every type of ships such as Dry Cargo vessels, Bulk Carriers, Chemical Tankers, Product Oil Tankers, Pure Car Carriers, Heavylift vessels and Chipwood Carriers.
A policy of selective rehire, together with continuous upgrade training and performance appraisal, guarantees you of a quality manpower, proficiency and safety on board your vessels.
What we do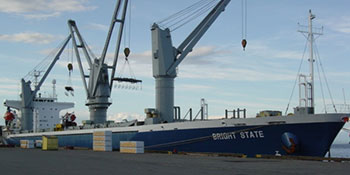 Manning Agency (Recruitment, Screening, Selection, Performance Monitoring)
Arrangement of Pre-Employment Medical Clearances
Arrangement of crew's Documents, Training, Certificates
Dispatch (including Travel Arrangements)
Bareboat Chartering
What we offer
Experienced Professionals (Officers and Ratings)
Flexibility / Adaptability to Principal's Needs
List of Manned Vessels
You can also download the list here.
Bulker Fleet
Name of vessel
Type
Registry
G.R.T.
Vsl Type
No. of
Filipino
Crew
1
MV PACIFIC SPIKE
BULK
PANAMA
23,000
Panamax
20
2
MV ATACAMA QUEEN
BULK
PANAMA
30,655
Panamax
21
3
MV JP VERDURE
BULK
HONG KONG
48,021
Panamax
22
4
MV ATLANTIC FAIRY
BULK
PANAMA
17,600
Panamax
21
5
MV ATLANTIC TRAMP
BULK
PANAMA
17,597
Panamax
21
6
MV BRIGHT WIND
BULK
PANAMA
43,013
Panamax
20
7
MV HAN FENG
HEAVYLIFT / GEN. CARGO
HONG KONG
Handy Size
16
8
MV HAN ZHI
HEAVYLIFT / GEN. CARGO
SINGAPORE
7,388
Handy Size
16
9
MV HAN XIN
HEAVYLIFT / GEN. CARGO
HONG KONG
7,388
Handy Size
16
10
MV HAN DE
HEAVYLIFT / GEN, CARGO
HONG KONG
5,782
Handy Size
16
11
MV HAN YI
HEAVYLIFT / GEN. CARGO
HONG KONG
10,990
Handy Size
22
12
MV HAN HUI
HEAVYLIFT / GEN, CARGO
HONG KONG
9,373
Handy Size
17
13
MV HAN ZHANG
HEAVYLIFT / GEN. CARGO
HONG KONG
Handy Size
11
Tanker Fleet
Name of vessel
Type
Registry
G.R.T.
Vsl Type
No. of
Filipino
Crew
1
MT CYPRESS GALAXY
OIL / CHEM. TANKER
PANAMA
12,100
22
2
MT EASTERN LIBERTY
OIL / CHEM. TANKER
PANAMA
5,300
21
3
MT EASTERN NEPTUNE
OIL / CHEM TANKER
PANAMA
5,450
21
4
MT EASTERN PROSPERITY
OIL / CHEM TANKER
PANAMA
5,448
21
5
MT EASTERN OASIS
OIL / CHEM. TANKER
PANAMA
5,457
21
6
MT ZAO GALAXY
OIL / CHEM. TANKER
MAJURO
26,198
22
7
MT ARGENT COSMOS
OIL / CHEM. TANKER
PANAMA
19,440
23
8
MT GINGA JAGUAR
OIL / CHEM. TANKER
PANAMA
16,232
19
9
MT ZOEY
OIL / CHEM. TANKER
PANAMA
7,271
17
10
MT JUSTINE
CHEMICAL TANKER
PANAMA
5,400
18
11
MT ORALIA
TANKER
PANAMA
5,328
16
12
MT ROSEANNE
CHEMICAL TANKER
PANAMA
7,353
20
13
MT PHOEBE
OIL / CHEM. TANKER
PANAMA
5,510
19
14
MT SEA SHELL
PRODUCT OIL TANKER
PANAMA
81,431
16
Aframax
An ocean-going crude oil tanker vessel of standard size between 80,000 and 119,000 DWT that is the largest crude oil tanker size in the AFRA (Average Freight Rate Assessment) tanker rate system.
Capesize
An ocean-going cargo vessel that is physically too large to fit through the locks of either the Panama or Suez Canals and therefore must voyage via Cape Horn at the southernmost tip of South America to get to or from the Atlantic and Pacific Oceans or the Cape of Good Hope at the southernmost tip of South Africa to get to and from the Indian and Atlantic Oceans. Capesize vessels generally serve deepwater terminals handling raw materials such as iron ore and coal.
Handymax
A small bulk or oil tanker vessel of 30,001 to 50,000 DWT that is a larger version of the popular Handysize vessel.
Handysize
A small bulk or oil tanker vessel that is suited to tie up at a T2 type pier. These vessels are a maximum of 10,000 to 30,000 DWT. These vessels are more maneuverable and have shallower draft than larger vessels and therefore make up the majority of the world's ocean-going cargo fleet.
Panamax
An ocean-going cargo vessel of the maximum size possible to pass through the locks of the Panama Canal which are 1000ft long by 110ft wide and 85ft deep. These vessels are typically of 50,000 to 80,000 DWT, 965ft (290m) in length, 106ft. (32.3m) beam, and 39.5ft (12.04m) draft.
Suezmax
An ocean-going cargo vessel of the maximum size possible to pass through the locks of the Suez Canal in Egypt. This standard has evolved over time. Prior to 1967, a Suezmax was a maximum of 80,000 DWT. The canal was closed between 1967 and 1975 because of the Israel-Arab conflict. Upon re-opening in 1975, after many modifications to the locks and canal itself, the maximum was increased to 150,000 DWT.
Ultra Large Crude Carrier (ULCC)
An ocean-going crude oil tanker of 300,000 to 550,000 DWT. These are the largest vessels in the world and are used for carrying crude oil on long haul routes from the Arabian Gulf to Europe, the America and the Far East, via the Cape of Good Hope. These vessels require custom built terminals for loading and discharge.
Very Large Crude Carrier (VLCC)
An ocean-going crude oil tanker of 200,000 to 299,999 DWT. These vessels have greater flexibility than ULCC due to their smaller size and are used extensively in the Mediterranean, West Africa and the North Sea. These vessels can sometimes be ballasted through the Suez Canal.