The "Big One" or the killer quake has been heard all over the news for the past few months to inform the public about the massive 7.2 quake that could hit the metro and estimated about 31,000 people could die when that occurs.
Officials said that 100-kilometer West Valley Fault is already ripe and ready for another movement and may hit within our lifetime.  This runs from the heights of Sierra Madre down to Bulacan, Quezon City, Marikina, Pasig, Makati, Taguig, Muntinlupa, Rizal, Cavite, and Laguna.
In relation with the anticipated devastating earthquake, Philippine O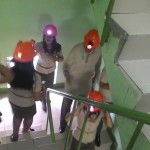 fficials led by Metropolitan Manila Development Authority (MMDA) have thought of a metro-wide earthquake drill to bring awareness and preparedness to the public.
On July 30, 2015 at exactly 10:30 a.m., bells rang, signaling the start of an hour-long drill, simulating a 7.2 magnitude quake to alert the public.  Fires, chemical explosions, vehicle collisions, collapsed buildings, cracked roads, and injured victims were just among the scenarios staged during the Shake Drill last Thursday.
Public and private schools, universities, hospitals, government agencies, religious sectors, business process outsourcing firms, business groups, shopping malls, and transport groups have participated the drill.  Volunteers were seen doing the "Drop, Cover, and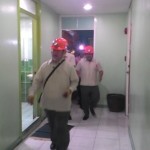 Hold on," which is the appropriate action to reduce injury and death during earthquakes.
Rescuers were seen assisting the trapped victims, helicopter was also seen hovering around the metro and firefighter sirens were heard which made the biggest earthquake drill ever held successful.  It was the first metro-wide simultaneous earthqua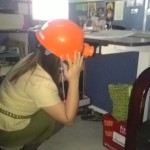 ke drill which aims to publicize preparedness among residents of Metro Manila in the event of a strong earthquake due to the movement of the West Valley Fault.
Philippine Transworld Shipping Corporation was religiously and diligently participated from the event to enhance further the awareness of PTSC Employees. In Metro Manila, which belongs to the "WEST QUADRANT" with designated evacuation site in the " INTRAMUROS GOLF COURSE". This is for the information of everybody in case we experience it in reality.
Advance planning of Philippine Transworld Team is how to save yourself with proper knowledge and awareness in the situation in order to have the guts and right thinking on how to give assistance to others specially their loved ones.
Starting today or even it will last up to 200 years as what they are saying. We really don't know when the BIG ONE strikes.
We will always be ready by constantly having the Earthquake Drill for preparedness.
Our motto is to be active on any circumstances and render assistance to anybody's lives at stake.