Corporate Mission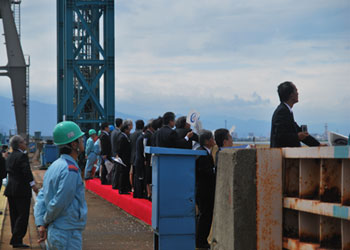 Good service comes first at PTSC. The company's mission is to provide the highest quality, most convenient and efficient service available by building close and lifelong relationship with customers and committing itself to innovative approaches and performances to be successful in meeting customers' expectations and its goals.
By investing heavily in professional skills, Philippine Transworld Shipping Corporation recognizes the vital importance and contribution of quality people to organizations, both at sea and ashore to fully and continually satisfy our customers in providing competent marine personnel, logistics transportation and service.
Company Background
Philippine Transworld Shipping Corporation was conceived on November 15, 1977. Founded by three ambitious gentlemen. Like any other newly established firm, first year was indeed a big challenged to PTSC. First, Manning and Husbanding business was acquired on its first two months of operations thru Shin Nippon Shipping Company Ltd of Tokyo, Japan on November and December of the same year. Thence business started pouring-in, in the late 1978, Xtra Container Leasing Agency was awarded to PTSC thru Nissin Transportation & Warehousing Company Ltd. followed by Tokyo Marine Company Ltd., John Nurminen Oy of Finland and many other foreign companies. After more than 37 years, with the help of the Almighty, PTSC officers and staff work strive as a family with a mutual goal ……. SUCCESS!!!
Group Of Companies and their services
 Philippine Transworld Shipping Corporation
Established year: 1977
Services: Manning & Shipping
Philippine Pioneer Forwarding Corporation
Established year: 1980
Services: Forwarders, Trucking, Warehousing & Inland Transportation
Vehicle Services Incorporated
Established year: 1981
Services: Motorpool including repair services and maintenance
Manila Transworld Carriers Incorporated
Established year: 1985
Services: Manning, Trucking, Bareboat Chartering & Shipowning
Tiwala Human Resources Incorporated
Established year: 1992
Services: Manning (Specialized Vessel)
---
Nissin Transport Philippines Corporation
Joint venture with Nissin Corporation, Japan
Established year: 1997
Services: International Freight Forwarding
PKI Manufacturing and technology incorporated
(Joint venture with Konoike Transport Co., Ltd., Japan)
Established year: 2008
Services: Outsourcing and Manpower
List of Principals
Manning Department
ARAB MARITIME PETROLEUM TRANSPORT CO. Cairo, Egypt
HAN SHIP MANAGEMENT PTE LTD. China/Singapore
NS UNITED KAIUN KAISHA LTD. Japan
SIGNOS MARINE S.A. Japan
UNIX LINE PTE LTD. Singapore
Husbanding Department
ABLE CHARTERING Republic of Korea
ASAHI SHOSEN CO., LTD. Japan
CORAL SHIPPING Greece
DAELIN CORPORATION Republic of Korea
EITZEN CHEMICAL(S) PTE . LTD. Singapore
BAY CREST MANAGEMENT PTE. LTD. Singapore
GOLDBRIDGE SHIPPING CO., LTD. Hongkong
KOYO KAUIN ASIA PTE LTD./IS KOYO HUB. Singapore
MOL CHEMICAL TANKERS PTE LTD. Singapore
JX OCEAN CO. LTD. Japan
SAMHO CO., LTD. Republic of Korea
SHOKUYO TANKER CO., LTD. Tokyo, Japan
SU NAVIGATION PTE LTD. Singapore
SUPERIN CHEMICAL (S) PTE LTD. Singapore/ASIA INDO NAVIGATION (MALAYSIA)
TABUCHI KAUIN CO., LTD. Japan
TATSUMI MARINE PTE LTD. Japan
TSURUMI SUNMARINE CO., LTD. Japan
GMS LINE CO. LTD, Japan
PRIMUS SHIPPING SERVICES, Singapore
HENGXIN SHIPPING CO. LTD, Shanghai China
MIDVOLGA SHIPPING CO., Russia
NHL DEVELOPMENT CO. LTD. Seoul, Korea
SHANGHAI XUARUN SHIPPING CO. LTD, Shanghai China
SHANGHAI DONG ZHAN SHIPPING CO. LTD.
MAREX MARITIME PTE. LTD, Singapore
Forwarding Department
ACESTAR INT'L SERVICE CORP.
AICHI FORGING CO. OF ASIA, INC.
AIT CORPORATION
ARABIAN FREIGHT SERVICES CO.,LTD.
ARKTECH PHILIPPINES INC.
BIG PHILS. CORP.
ENOMOTO PHILIPPINE MANUFACTURING INC.
INTERNATIONAL EXPRESS CO., LTD.
JAPAN RADIO COMPANY LTD.
JFE ENGINEERING CORP.
KAJIMA PHILIPPINES INCORPORATED
KINDEN PHILS. CORP.
KONOIKETRANSPORT CO.,LTD.
LIMA LOGISTICS CORPORATION
MARUBENI CORP.
MARUBENI LOGISTICS CORPORATION
MARUBENI PROTECHS CORP.
MIT-AIR SALES CENTER INC.
MITSUBISHI LOGISTICS CORP.
JUPITER GLOBAL LIMITED
DAIICHI TRANSPORTATION & TERMINAL CO.,LTD
MM STEEL SERVICE CENTER CORPORATION
MODAIR MANILA CO. LTD. INC.
NANOX PHILS. INC.
NISSIN CORP.
NISSIN TRANSPORT PHILIPPINES CORP.
NIPPON STEEL & SUMIKIN ENGINEERING CO., LTD.
PHILIPPINE-JAPAN MARINE SURVEYORS & SWORN MEASURERS CORPORATION
PHILIPPINE RESINS INDUSTRIES,INC.
SAFETY SERVICE KINDNESS PHILS.INC.
SANKYU INC.
SANWA FORWARDING BUSINESS CO., LTD.
SGS EXPORT & IMPORT CORPORATION
SHILLON GLOBAL CONSTRUCTION INC.
SOJITZ PHILIPPINES CORP.
SOWA CONSTRUCTION, INC.
SUMINAC PHILS. INC
SUMISETSU PHILIPPINES, INC.
SUMISHO GLOBAL LOGISTICS CO.,LTD.
SUMITOMO CORP. OF THE PHILIPPINES
SUMITOMO CORPORATION
SUMITOMO WAREHOUSE COMPANY LTD.
TAISEI PHIL CONSTRUCTION INC.
TAKENAKA CORPORATION
TAKENAKA CIVIL ENGINEERING & CONSTRUCTION CO., LTD.
TERUMO PHILS CORP.
TOP-MAR METAL VENTURE CORP.
TOSOH LOGISTICS CORPORATION
TOYO CONSTRUCTION CO., LTD.
TRANSCONTAINER (TCL) PHILIPPINES, INC
Our Services

Our vision and our mission is to provide the highest quality, most convenient, economical and efficient services available by building close and lifelong relationships with our customers and committing itself to innovative approach and performance to meet customer's expectations and goals. 

We are fully equipped with personnel with full knowledge on import and export procedures whether tax and duty free importations or importations subject to payment of taxes and duties. Likewise, we are capable of providing logistics support for the needs of our customers like transport equipment for light, heavy and extra heavy loads, containerized and non-containerized cargoes, lifting equipment and positioning equipment outside and inside buildings.